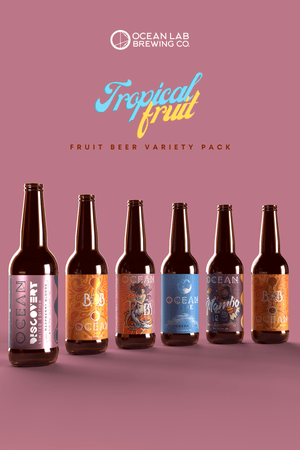 Tropical Fruit Variety 6-Pack
PRODUCT DETAILS 
This fruity variety pack is perfectly curated for your next trip to the beach. All of these beers were crafted to be enjoyed at the beach with friends. 
The 6-pack includes: 
2 BOB :
Our popular Blood Orange Blonde (BOB) is a light and crisp infused formulated to delight the Puerto Rican craft beer enthusiast. Its characteristic flavor is achieved by using an organic blood orange infusion sourced from the best farms of California. Enjoy and refresh your palate with a wave of flavor.
Alc. Vol 5.0-6.0%
1 Ocean Blue:
Sunsets in the Caribbean are as diverse as our beers and Blue is no exception to that. This smooth Fruit Beer is purple in it's color that comes from fresh blueberries which are also present in it's flavor creating a fruity taste on the pallet.
Alc. Vol. 5.5-6.5%
1 Ruby:
This beer is the perfect thirst quencher for a hot day with notes of grapefruit both in the aroma and pallet resulting in a citrus packed flavorful brew.
Alc. Vol 6%
1 Discovery Raspberry:
It is a beer inspired by the Caribbean sunrise and has a rosy color appearance. Its raspberry flavor makes it refreshing and light in body, achieving a perfect combination.
Alc. Volume 4.8%
1 Mambo: 
This hazy wheat beer has a delicious passionfruit aroma and flavor that compliments its bread and malty flavors with a smooth mouthfeel creating a refreshing yet flavorful brew. 
Alc. Vol. 4.0-5.0%