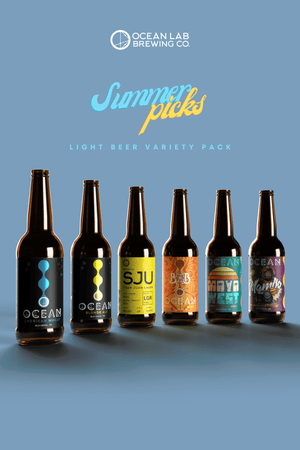 PRODUCT DETAILS 
Summer Variety 6-Pack:
1 American Wheat:
If you enjoy traditional Belgian brews, you'll love Ocean Lab's American Wheat. Made with 100% local orange peel and coriander seeds, accentuating its floral and citrus notes. Refreshing, crisp, and a perfect contender for a day at the beach.
5.8% Alc. Vol.
1 Blonde Ale:
Our flagship beer, the Ocean Blonde is a delicate golden-colored ale designed for the island of the never ending summer. Come and enjoy a well balanced and refreshing brew with a subtle bitterness and hop aroma. Born on the beach, for the beach!
Alc. Vol 5.8%
1 SJU:
Our SJU Lager is a German Style Munich Helles with a light golden hue, floral notes, caramel malt sweetness, honey and nuts that finishes off smoothly along the pallet.
Alc. Vol 5.5-6.5%
1 BOB: 
Our popular Blood Orange Blonde (BOB) is a light and crisp infused formulated to delight the Puerto Rican craft beer enthusiast. Its characteristic flavor is achieved by using an organic blood orange infusion sourced from the best farms of California. Enjoy and refresh your palate with a wave of flavor.
Alc. Vol 5.0-6.0%
1 Maya West:
Ocean Lab created this beer to celebrate everything that makes the west coast special: a day dwelling at the beaches, surfing, seeking adventures, and experiencing the college student lifestyle of the region. Enjoy this refreshing Puerto Rican Lager perfect for the tropical weather. Cheers!
Alc. Vol 4.5%
1 Mambo: 
This hazy wheat beer has a delicious passionfruit aroma and flavor that compliments its bread and malty flavors with a smooth mouthfeel creating a refreshing yet flavorful brew. 
Alc. Vol. 4.0-5.0%