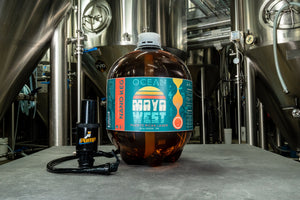 PRODUCT DETAILS
Prior to purchasing the keg it is recommended to bring a cooler filled with ice. This will help the keg stay cool during transit. If you did not bring a cooler, make sure to put the keg on ice as soon you arrive at desired location. Keg draft beer is best served cold (36-38° F). Keep pump and keg out of direct sunlight. 
Note: To prevent the pump from damaging, do not use the pump to lift keg.
▷ Freshness: Once opened, the keg should be consumed. It is perfect for parties or for sharing with a group of friends.
▷ Cooling: Once you buy it, you must keep the Nano Keg as cold as possible.
Step 1: Place ice at the bottom of the cooler.
Step 2: Place the Nano Keg inside and fill the cooler all the way up with ice. Make sure the top of the Nano Keg is covered with ice.
Step 3: Tap the keg by placing the pump on the head of the Nano. Twist the pump to seal.
Step 4: Open the faucet until the pressure is relieved.
Step 5: Begin pumping until the desire flow rate is reached. Only pump with faucet open and only pump to maintain a good beer flow.
Repeat step #5 until keg is empty. Do not open or consume keg until very cold. If not, your pours will have an excessive amount of foam.
▷ Our Nano Kegs are RECYCLABLE, but not refillable.
▷ 2.2 GAL. equivalent to 28 12oz. bottles. 
ONLY AVAILABLE FOR PICK-UP AT THE OCEAN LAB STORE