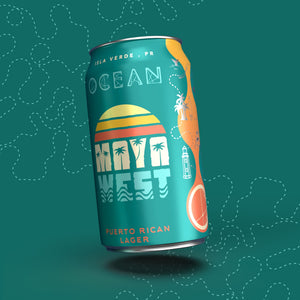 PRODUCT DETAILS
The west coast of our island is known for its beautiful land and cool people. Ocean Lab created this beer to celebrate everything that makes the west coast special: a day dwelling at the beaches of Isabela and Cabo Rojo, surfing in Rincón, seeking adventures in Guánica and La Parguera, and experiencing the college student lifestyle of the region. Take a road trip to celebrate Mayawest and enjoy this brew. Cheers!

Enjoy from our MayaWest in our can form instead of a glass bottle! Easy to take it anywhere on the go.
Brewed and Canned by: Ocean Lab Brewing Co. in Carolina, Puerto Rico.
12 oz.




Malted Barley - Synergy Select Pilsen, Carapils, Rice




Hops - Saaz




ABV - 4.0 - 6.0%




SRM - 2




IBU - 24




Style - Puertorican Lager